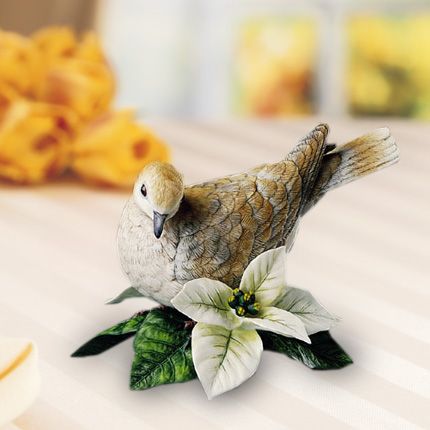 Crafted of hand-painted fine bisque porcelain
Bears the Lenox hallmark in gold
Certificate of Authenticity
Height: 4 1/2"
Width: 4 1/4"
$75.00 $27.95
You save: $47 (63%)
View larger image
This delightful bird is portrayed atop a white poinsettia. It's dawn in the garden. A soft cooing fills the air. The gentle turtle dove sings to its mate. Feather by feather, leaf by leaf, every sculptured detail has been captured in all its intricacy. The gentle hues of sand and ivory in the dove's plumage contrast beautifully with the distinctive black neck markings and shaded wing tips. And the vibrant green and creamy white of the two poinsettia blooms add exceptional grace and loveliness.